Pack your backpack and discover the Hedgehog Island in Tay Ninh
Hedgehog Island in Tay Ninh is one of the unique tourist attractions located near Ho Chi Minh City, suitable for short trips on weekends.

Determine coordinates of Hedgehog island
Hedgehog Island in Tay Ninh is a small, unspoiled island located peacefully in the heart of Dau Tieng Lake in Phuoc Minh Commune, Duong Minh Chau Town, Tay Ninh Province. This island is about 90 km from the center of Ho Chi Minh City and only 20 km from the center of Tay Ninh town. Therefore, on weekends, many tourists come here to travel and entertain after a week of hard work.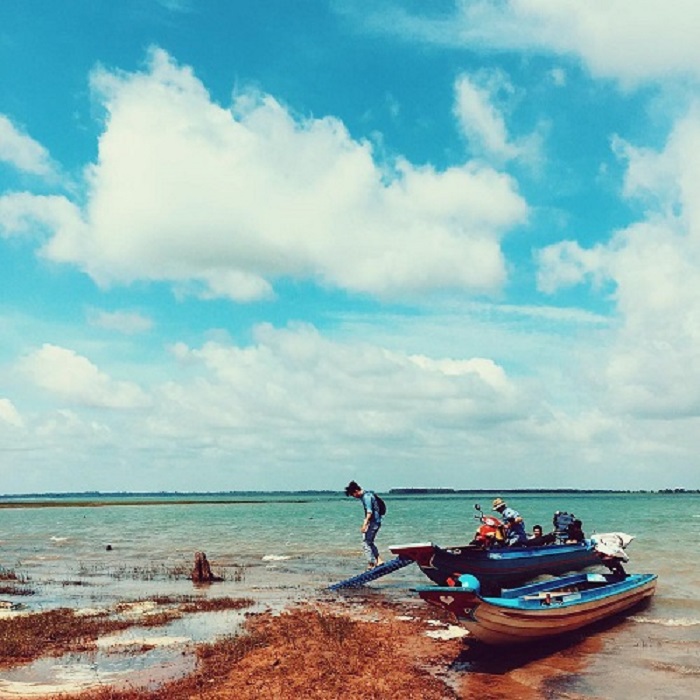 This is an ideal destination on free weekends.
Photo: hoangbach.br
To get to Nhim Island, you can choose to take a bus or ride a motorbike. If you take a bus, you take the bus from An Suong bus station to Duong Minh Chau town. Then continue to move to Dau Tieng lake and to the island. If you want to travel to Tay Ninh by motorbike for convenience, you should follow Highway 22. When you come to Trang Bang junction, continue to run on Provincial Road 19 to Duong Minh Chau town, out to Dau Tieng lake.
When you arrive at Dau Tieng lake, you will be transported by canoe to the island. The train ticket to the island is only 20,000 VND/person. If you go in a group, you can rent a boat for about 300,000 VND. It only takes about 15-20 minutes sitting on the boat, you can reach the wild, peaceful and cool Hedgehog Island.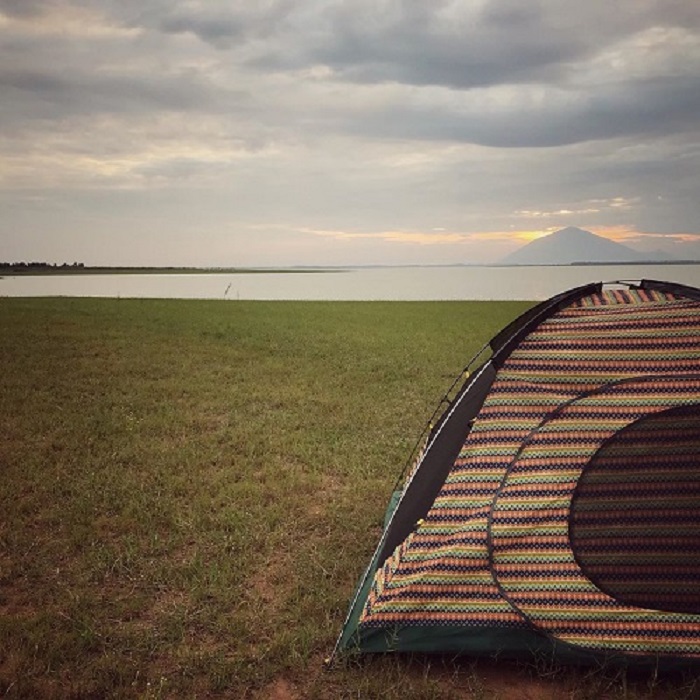 Camping on the lakeside is a great experience when traveling to Hedgehog Island.
Photo: minhnhu0101
What's fun in Tay Ninh Hedgehog Island?
As a small island located in an artificial freshwater lake, many tourists ask the question of what is fun on Nhim Island in Tay Ninh . Of course, this place will not have long, smooth white sand beaches, shady coconut trees or clear blue water. On the contrary, on the island of Hedgehog, there will be other more rustic and simple pleasures for you to explore and experience.
When you set foot on the island, you feel like you are lost in a peaceful countryside, far from the hustle and bustle of the city. The life of the people on the island is still quite difficult, they live mainly on farming and fishing activities on Dau Tieng lake. Here, visitors can make a healthy trekking trip, crossing from the trail on one side to the street on the other side of the island. For those who come to Tay Ninh for the first time and do not know what to play in Tay Ninh , this is an experience worth trying.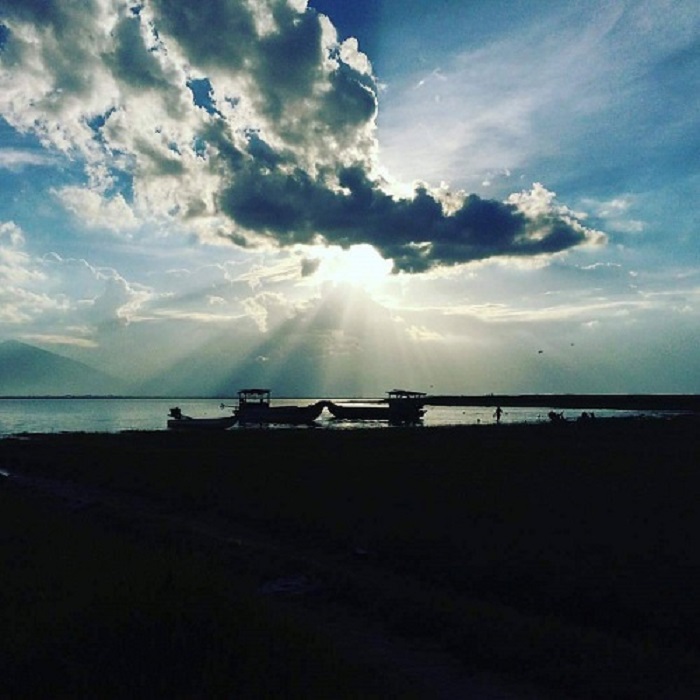 Peaceful, unspoiled scene on Nhim island
In the evening, you can go to the open ground near the pier to camp, sing, play or eat as you like. Near the pier there is also a small restaurant of the people on the island. Here you can visit to drink water or ask for firewood, take a bath if you stay overnight. In addition, near the pier area there is also a large lotus pond. If you come here during the lotus season, you will have the opportunity to take countless beautiful virtual photos.
Young people who have been to Nhim Island in Tay Ninh share that walking on the trail in the middle of the island and watching the sunset are great experiences here. You will forget all the pressures of life, all the troubles of work to immerse yourself in the idyllic lifestyle of the people on the island.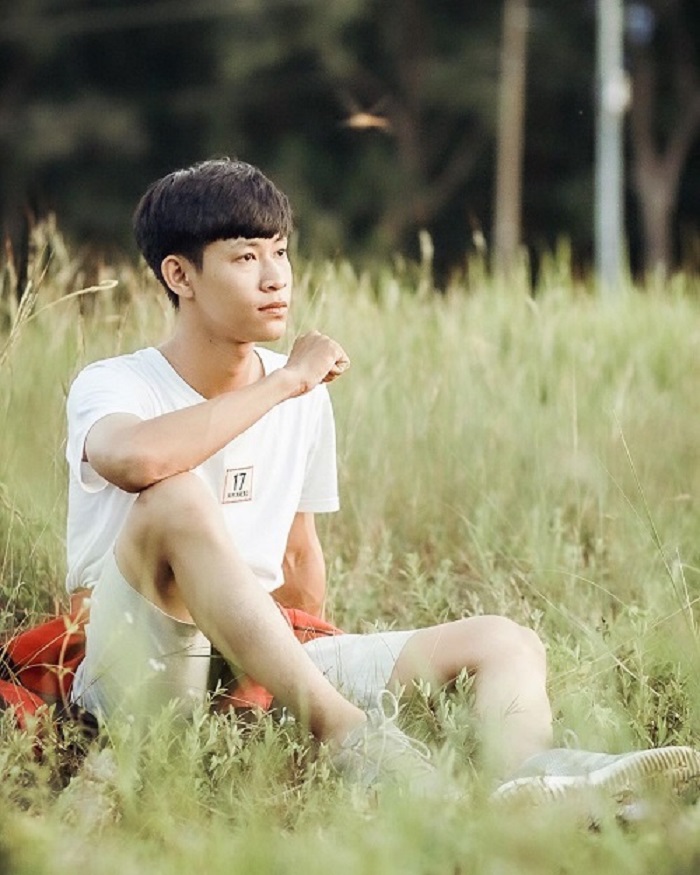 Just find a small corner, you also have many wild and romantic check-in photos like this.
Photo: it.thanggggg
Note when traveling to Nhim island
Hedgehog Island in Tay Ninh is not a touristic island. Therefore, there are no entertainment and entertainment services or motels and hotels. On the island, you can only camp or ask to stay at a homestay.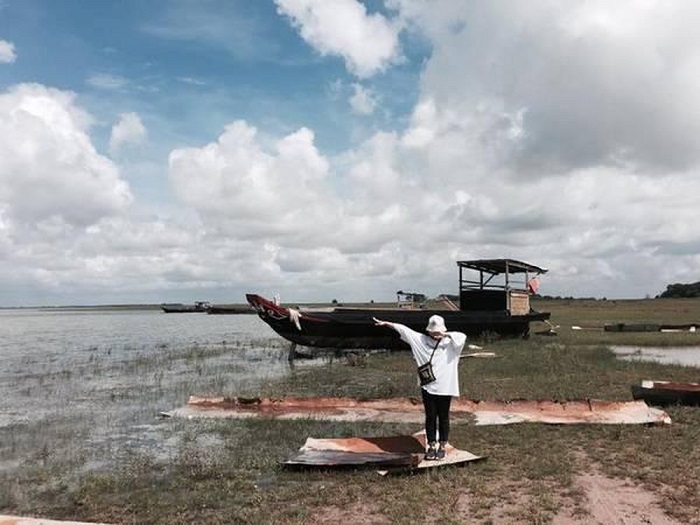 If you want to spend the night on the island, you should prepare enough furniture and food.
Photo: Internet
This place also doesn't have many shops or businesses. Therefore, before going to the island, you should fully prepare your personal items, bring some snacks if you want to stay overnight. In addition, if you intend to camp on the island during this Tay Ninh tour , remember to bring a full tent and other necessary belongings.
Located less than 100 km from Ho Chi Minh City, Nhim Island is a suitable weekend destination for all visitors. If you don't know what to play in Tay Ninh , try going to Nhim Island once, you will surely have many memorable experiences in this place.